The classical Indian dance has eight dance styles– Bharatnatyam, Kathak, Kathakali, Kuchipudi, Manipuri, Mohinattam, Odissi and Sattriya.
In ancient history, the classical Indian dances developed as the evolution of classical Sanskrit drama as an amalgam of the spoken word, gestures and mime, choreography, stylised movement and music.
And from the 12th century to 19th century there developed many regional forms called the musical plays or 'sangeet-nataka'. Hence, the contemporary classical Indian dance forms have evolved out of these musical plays to attain the distinctive features. 
There are two aspects of dance
Tandava — the masculine denotes movement, rhytm, heroic
Lasya — the feminine is soft, lyrical and graceful and denotes grace, and 'abhinaya', 'bhava' and 'rasa'.
We discuss Classical Indian Dances below to study the important aspects of each of them.
Bharatanatyam Dance
Abhinaya Darpana by Nandikesvara is the main textual material for the study of the technique and grammar of body movement in the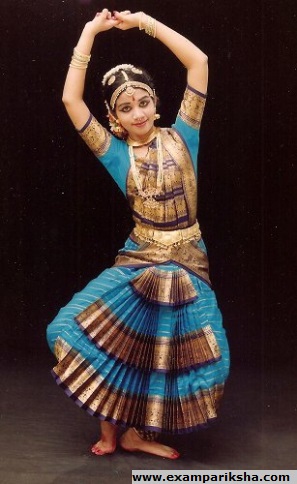 Bharatnatyam Dance.
Bharatnatyam is 'ekaharya', meaning only one dancer takes on many roles in a single performance.
It was continued as 'devdasi' or temple dance. Devadasis were young girls that were 'gifted' by their parents to the temples and were married to the gods. These devadasis performed music and dance as part of offerings to deities in the temple courtyards.
It was revived by Krishna Iyer, who was also a freedom fighter. It was made popular by Rukmani Devi Arundale, who learnt Russian ballet in Austria and began to learn Indian Classical dance after getting inspired. Rukmani Devi Arundale laid the foundation of Kalakshetra – taught by nattuvangam.
There are two famous styles of Bharatanatyam :
Pandanallur Style
Thanjavur Style
Bharatanatyam costume
The costumes of bharatanatyam are bright and colorful. They are inspired by the sari tradition of contrasting border colors, and the borders of the various pieces of costumes form patterns that decorate the dancer's form. Heavy lines of makeup are drawn around the eyes, extending outwards past the eyes. The pair of anklets or ankle bells (salangai in Tamil) are important part of Bharatnatym costume.
Kuchipudi Dance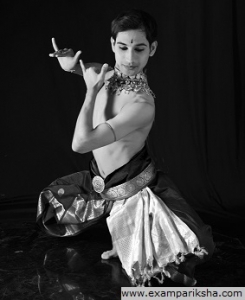 Kuchipudi is the name of a village in the Krishna district of Andhra Pradesh. Traditionally performed by male Brahmanas in temples. There is a huge impact of Vaishnavism which has inculcated themes of Bhagavad Purana in the Kuchipudi dance.
In 17th century Kuchipudi style of Yakshagaana was conceived by SiddhendraYogi who was a talented Vaishnava poet. According to a popular belief, Siddhendra Yogi had a dream where Lord Krishna asked him to compose a dance-drama based on the myth of the bringing of paarijaata flower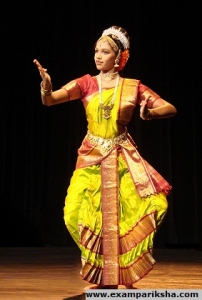 for Sathyabhaama, the most beloved queen of Lord Krishna. Therefore, in compliance, Siddhendra Yogi composed the 'Bhaamaa-kalaapam'. It is an  important part of Kuchipudi.
It was patronised by Vijayanagar kings and Golconda rulers in past. Kuchipudi combines 'lasya' and 'tandava'.
There are two forms of Kuchipudi – the traditional musical dance-drama and the solo dance.
Kuchipudi costume
The costume of kuchipudi has a long pleat in the centre with a border and a back katcham and also a side small fan makes this a typical Kuchipudi style.
Odissi Dance
It is one of the earliest dance form in India. Evidences are found in Udayagiri and Khandagiri caves. Various buddhist, tantric images of dancing Yoginis, Nataraja, and shaivite temple influences resulted in an unique philosophy of the dharma or faith of Jagannath.
The Devdasis were known as 'Mahari's were indispensible part of the odissi dance culture. For centuries 'maharis' were chief repositories for Odissi dance. The maharis were originally temple dancers which were also employed in the royal courts resulting in degeneration of the art form. After 12th century, there was great influence of Vaishanavism and bhakti cult on the mahari system. The Mahari system declined largely because ascetics of vaishnavism disapproved of immoralities of the devdasi system.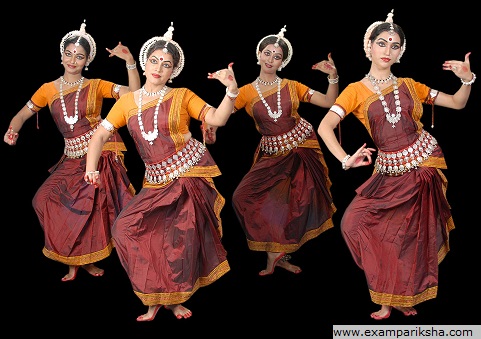 This lead to introduction of young boys dressed as women, dancing like maharis, known as Gotipuas. Gotipuas quit dancing when they turned 18 and began teaching. Many gurus of odissi come from the gotipua tradition.
With influence of vaishnavism, Jayadeva's Ashtapadi become a compulsory item in Odissi dance.
Important postures in Odissi are – Tribhanga posture (with 3 bends at head, bust and torso = mobile sculpture) and Chowk posture.
Odissi costume
The costume of Odissi is similar to that of traditional Bharathanatyam costume. The dancer wears elaborate Odiya silver jewellery and a special hair-do. The sari, that is usually stitched nowadays, is unique to the style of Odissi.
Kathakali Dance
It was performed in kerala temples as dance dramas. In the temple sculptures of Kerala and the frescoes in the Mattancheri temple, in 16th century, the dance scenes which depict the square and rectangular basic positions of Kathakali.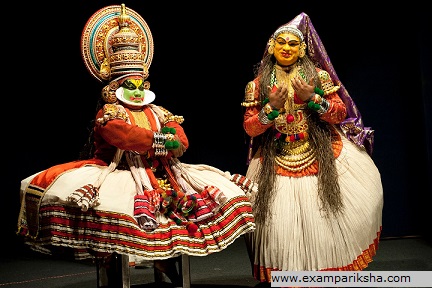 The sources of kathakali are Kudiattam, Krishnattam, and later Ramanattam created by Raja Balaveera Keralam, which later evolved into katahkali.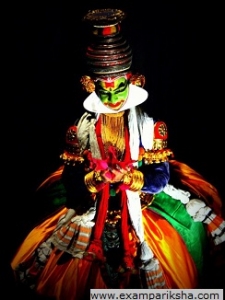 Kathakali is performed on Open air stage against lush green kerala landscape. No props are required, where expressions suggest the scene of dance-drama.
There is elaborate make up where the colour of makeup indicates the mental stages of the character such as green facial colour indicates nobility, virtue, divine. Red patches on nose indicate royalty and evil while black face indicate wicked female.
There is remarkable use of eye movements and expressions in kathakali. Themes of epics and puranas are largely depicted in kathakali.
Kathakali is a blend of dance, music and acting and dramatizes stories, which are mostly adapted from the Indian epics which mainly represents eternal conflict of good and evil.
Kathakali costume
The costume of kathakali is most distinctive to Kathakali dance. The costumes are very large and heavy. There are several type of costumes: Sathwika (the hero), Kathi (the villain), Minukku (females), and Thatti. Each character is instantly recognised by their characteristic makeup and costume. The dancers wear large head dresses mainly Kireedam, and the contours of face are extended with use of moulded lime.
Mohiniattam Dance
It is a dance that originated in Kerala. The origin is of Mohiniattam are traced in the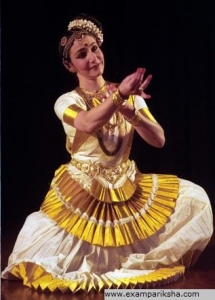 reign of Maharaja Swati Thirunal of Travancore in early 19th century.
Mohhiniattam combines elements of Bharatanatyam (grace and elegance) and Kathakali ( vigour). It is a solo dance where women perform the dance. Though mohiniattam is more exotic, lyrical and delicate than both bharatanatyam and kathakali from which it derives elements.
Mohiniattam Costume
The costume of Mohiniattam is refined and distinct. This peculiar dance of Kerala, is performed by a solo female dancer. The costume color is white with gold zari borders. The Skirt around torso is fully pleated from front to back.
Manipuri Dance
It is different from other classical dances as in – it emphasises bhakti and not sensous aspects due to high vaishanv influence.
The origin of Manipuri dance are traced back to ancient times which go beyond the recorded history. The dance in Manipur is mainly associated with the rituals and traditional festivals, with legendary references to the dances of Shiva and Parvati and other gods and goddesses who created the universe.
Also, Lai Haraoba is one of the main festivals that is still performed in Manipur which is rooted in pre-Vaishnaviteperiod. The principal performers of Lai Haraoba are the maibas and maibis (priests and priestesses) who re-enact the theme of the creation of the world.
With the arrival of Vaishnavism in 15th century A.D., new compositions based on life of Radha and Krishna were gradually introduced in Manipuri and eventually the popular Rasleela dances of Manipur originated.
The most popular forms of Manipuri dance are the Ras (Radha, Krishna and the gopis), the Sankirtanaand the Thang-Ta. The martial dancers of Manipur are known as the 'Thang-ta' originated when man's survival depended on his ability to defend himself from wild animals.
The manipuri dance in its present form was promoted by Rabindranath Tagore in Shantiniketan in early 19th century.
Components of Manipuri dance are:
drum- 'pung' is soul of this dance.
has several 'cholums' or dances like pung cholam, kartal cholom, Dhol cholom.
Rasleela is inseparable and very important part of manipuri.
Choloms have both 'tandavas' and 'lasya' aspects.
Focus on devotional love.
Songs in Bengali, Maithali, Bhrajbhasha and Sanskrit, usually compositions of Jayadeva and Chandidas.
Ashtapadis of Jayadeva's Geeta Govinda are very popular.
Lyrical grace, soft movements.
Serene expressions
Gorgeous costumes
limited use of mudras
No ankle bells worn by dancers.
Manipuri Costume
The most elaborate costume of manipuri dance is for the Ras dance. Ras costume consists of a richly embroidered stiff skirt which extends to the feet. A short fine, white muslin skirt is worn over the stiff skirt. A dark coloured velvet blouse covers the upper part of the body and a traditional white veil is covers a special hair-do which falls gracefully over the face.
In the Ras dance, Krishna wears a yellow dhoti, a dark velvet jacket and a crown of peacock feathers. The jewellery worn is very delicate and the designs are unique to the region.
Sattariya Dance
Sattriya dance of Assam developed in the 15th century A.D by the great Vaishnava saint and reformer, Mahapurusha Sankaradeva. Shankardeva developed sattariya dance as a powerful medium for propagation of the Vaishnava faith. It is especially associated with the Majuli island in Brahmaputra river.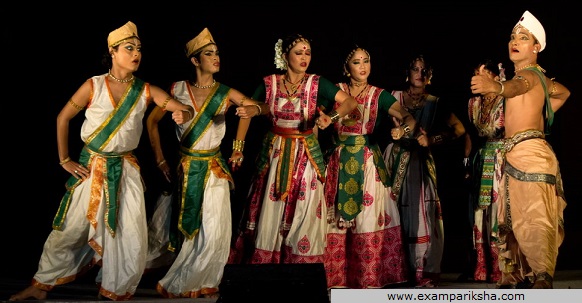 The Sattras are 'Vaishnava maths' or monasteries. Due to its religious character and association with the 'Sattras', this style of dancing has been aptly named 'Sattriya'.
Sattriya dance tradition has strict principles governing it in respect of the hastamudras, footworks, aharyas and music. This Sattriya tradition, has two distinctly streams –
the Bhaona-related repertoire begining from the Gayan-Bhayanar Nach to the Kharmanar Nach,
the dance numbers which are independent – like Chali (characterized by gracefulness and elegance), Rajagharia Chali, Jhumura (characterised by vigor and majestic beauty), Nadu Bhangi etc.
Kathak Dance
The word Kathak is derived from the word Katha meaning a story. Kathakars are story-tellers, who narrate stories based on the epics, myths and legends. The Vaishnavite cult which was prevalent in North India in 15th century and the resultant bhakti movement introduced new forms of lyrics and musical forms.
The Radha-Krishna theme was immensely popular alongwith the works of Mirabai, Surdas, Nandadas and Krishnadas. Raslila developed in the Braj region (Mathura in Western U.P.) which combined music, dance and the narrative together. The advent of Mughals developed the bhava and sensous aspects of the dance form taking it from temples to the courts.
The 19th century was the golden age of Kathak under the patronage of Wajid Ali Shah, the last Nawab of Oudh. Wajid Ali Shah established the Lucknow gharana.
There are three schools of Kathak in Northern India –
Lucknow Gharana — has strong accent on bhava, the expression of moods and emotions.
Jaipur Gharana –known for layakari or rhythmic virtuosity
Benaras Gharana — evolved in Rajasthan, known for moderate tempo, grace and precision
Main characterstic of Kathak are its intricate footwork and pirouttes. The technique of movement in Kathak is unique to it, where the knees are not bent or flexed.
The metrical cycle (tala) of 16, 10, 14 beats is the foundation on which the whole edifice of Kathak dance is built.
Importance of Kathak:
Kathak is the only classical dance of India which has links with Muslim culture.
It represents a unique synthesis of Hindu and Muslim traditions in art.
Kathak is the only form of classical dance which involves Hindustani music (the North Indian music). Hindustani music has seen a parallel growth with Kathak, with each feeding and sustaining the other.
Questions based on classical dances of India are seen in all state public service commission exam along with the exams conducted by UPSC for CSE, CDS, etc. We hope this comprehensive study material for students looking to cover this topic of syllabus, will be sufficient to enable you to face the exam questions. Please share your views about this article in the comments below.
☑ Study Plans & Online Test Series for Civil Services Exams
| | | |
| --- | --- | --- |
| UPSC Prelims Exam : | | |
| UPSC Mains Exam : | | |
Free Study Material & Online Tests for Various Subjects
| | | |
| --- | --- | --- |
| Current Affairs : | | |
| General Awareness : | | |
| Reasoning :  | | |
| English : | | |
| History : | | |
| Geography : | | |
| Political Science : | | |
| Economics : | | |
| Environment GK : | | |
| Science & Tech. : | | Coming Soon |
| State Exam GK : | Coming Soon | |
We'll Teach You FREE, How You Can...
» Crack Exams Like UPSC, RPSC, NET-JRF in no time!




» We'll send you all our Daily Current Affairs, Latest Study Material Free of Cost!




» You'll also receive FREE eBooks & Questions Papers!
Sign Up Now!
Register to get our Free Study Material by email.