Just like other forms of art, dance also involves expression of all characteristics of the human mind including varied human emotions known as 'ras'. Human emotions have been categorized into 9 'rasa' called 'Nav-rasa'.
Hasya Rasa — laughter, mirth
Bhayanak Rasa— fear, evil
Rudra Rasa — Anger
Karun Rasa —  Compassion, pathos
Vir Rasa — Valour, courage
Adbhut Rasa —  Wonder, astonishing
Vibhatsa Rasa —  Disgust, terrifying glory
Shaanti Rasa — peace
Shringaar Rasa — love, decorating one's self/aesthetics
Text Sources containing details of performing arts in Ancient India, which are known as earliest traditions of Indian Classical Dance are :
Bharata's Natyashashtra (between 2nd century BC and 2nd century AD) – Natyashastra is also known as the fifth veda.
Matanga's Brihaddesi (8-9th century AD)
Jayadeva's Gita Govinda (12th century) – brilliant raga kavya of orissa, where each song is set in different raga on theme of love between Radha and Krishna.
Abhinavagupta's Abhinavbharati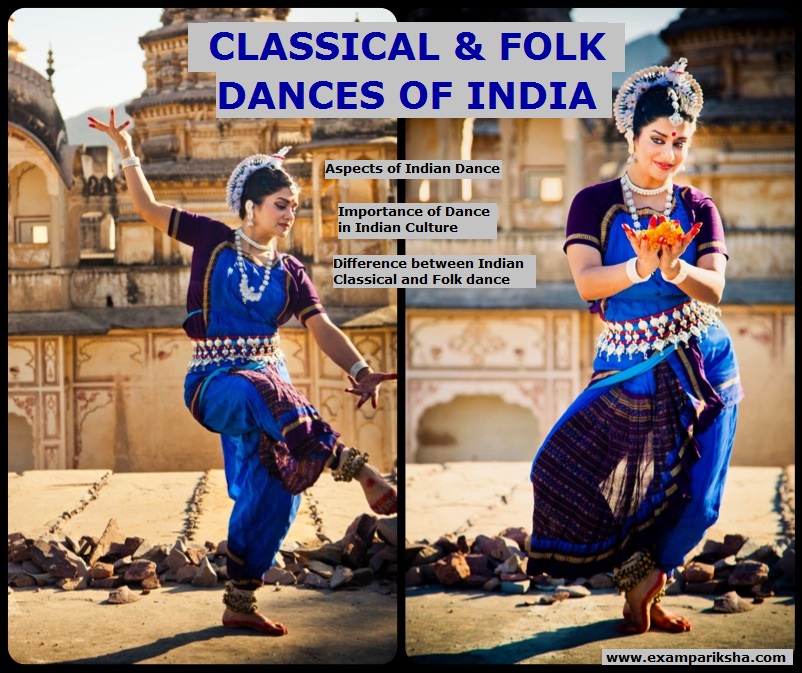 Analytical Aspects of Classical Dance in India:
In his work Natyashahtra, Bharata has described dance and its various angas (limbs) in detail. There are three broad categories which involve facial expressions, body movements, hasta mudras and the footsteps. These categories are:
nritta (pada sanchalan) – foot work
nritya (anga sanchalan) – body movements
natya (abhinay) – facial expressions
An ancient classification that is followed in all styles is of Tandava and Lasya. Tandava – refers to the masculine, and its heroic bold and vigorous. Lasya – refers to the feminine, and its soft, lyrical and graceful.
Abhinaya, broadly means expression. Expression is achieved through angika, the body and limbs, vachikasong and speech and aharya, costume and adornment; and satvika, moods and emotions. 
Importance of Dance in Indian Culture
In traditional Indian culture, the function of dance was to give symbolic expression to religious ideas. Therefore, figure of Lord Shiva as Nataraja in dance represents the creation and destruction of cosmic cycle. The art of dancing may be traced to the Harappan culture which is testified by the bronze statue of a dancing girl.
Difference between Classical and Folk Dances
With time dances have come to be divided as folk and classical. The differentiating factor is generally the performance. Classical form of the dance was performed in temples as well as in the royal courts. While the dance in temples had a religious objective to please Gods , the dance in courts was used purely for entertainment.
Consider the following dances and the purpose served by them.
Bharatanatyam and Mohiniattam – part of the rituals in temples.
Yakshagana, a form of Kathakali in Kerala, – Ramayana and Mahabharata stories
Kathak and Manipuri – stories of Krishna and his leela
Odissi – worship of Lord Jagannath.
The Folk dances have evolved from the lives of common people and were mostly performed in unison. They are meant to serve as a medium for celebrate most of the harvesting season by giving expression to the joys and sorrows of the people-folk. The following folk dances are popular for their uniqueness.
Bihu celebrates harvest season of Assam,
Garba of Gujarat,
Bhangra and Gidda of Punjab,
Bamboo dance of Mizoram,
Koli is the fisherman's dance of Maharashtra,
Dhumal of Kashmir,
Chhau of Bengal.
Martial dances of India
Chholia of Uttranchal,
Kalari paittu of Kerala,
Thang-taa of Manipur
Gatka of Punjab
Paika of Orissa
Pang Lhabosol of Sikkim
List of Important Indian Classical Dances
Questions are often asked about regions to which the following famous dances are associated. Hence, the list of important classical dances of India has been presented below to give a quick reference guide for revision.
Bharatanatyam – Tamil Nadu
Chhau – Odisha, West Bengal, Jharkhand
Gaudiya Nritya – West Bengal
Kathak – North India (Uttar Pradesh)
Kathakali, Mohiniyattam – Kerala
Kuchipudi – Andhra Pradesh
Manipuri, Thang Ta – Manipur
Odissi – Odisha
Sattriya – Assam
List of Folk Dances of India
Folk dances are important part of Indian culture. Hence, aspirants should be aware of the following important folk dances of states in India to be able to answer questions in exams.
Andhra Pradesh : Kuchipudi, Kolattam
Arunachal Pradesh : Bardo Chham
Assam : Bihu Dance
Jharkhand : Karma / Munda
Chattisgarh : Panthi, Rauta Nach, Gaur Maria dance
Goa : Tarangamel, Dashavatara, Dekhni, Dhalo, Dhangar, Fugdi, Ghodemodni, Goff, Jagar, Kunbi, Mando, Muslam Khel, Perni Jagar, Ranamale, Romta Mel, Divlyan Nach (Lamp dance), Veerabhadra
Gujarat : Garba, Raas, Tippani dance, Padhar 
Himachal Pradesh : Kinnauri Nati, Namgen
Haryana : Saang dance, Chhathi Dance, Khoria Dance, Ras Leela, Dhamal Dance, Ghoomar Dance, Jhumar Dance, Loor Dance, Gugga Dance, Teej Dance, Phag dance, Chaupaiya.
Karnataka : Yakshagana, Bayalata, Dollu kunitha, Veeragaase dance
Kashmir : Dumhal
Lakshadweep : Lava
Madhya Pradesh : Tertali, Charkula, Jawara, Matki dance, Phulpati Dance, Grida dance, Maanch
Maharashtra : Pavri nach, Lavani,Koli
Manipur : Thang Ta, Dhol Cholom
Mizoram : Cheraw dance
Nagaland : Chang lo / Sua luo
Odisha : Gumura Dannce, Ruk Mar Nacha, Goti Pua, Nacni, Odissi, Danda Nacha, Baagh nach/Tiger dance, Dalkhai, Dhap, Ghumra, Karma nach, Keisabadi.
Puducherry : Garadi
Punjab : Bhangra, Giddha, Malwai Giddha, Jhumar, Karthi, Kikkli, Sammi, Dandass, Ludi, Jindua.
Rajasthan : Ghoomar, Kalbelia, Bhavai, Tera tali, Chirami, Gair.
Sikkim : Singhi chham
Tamil Nadu : Bharatanatyam, Kamandi, Devarattam, Kummi, Kolattam, Karagattam, Mayilattam/Peacock dance, Paambu aatam/snake dance, Oyilattam, Puliyattam, poikkal kuthirai attam, Bommalattam, Therukuthu.
Tripura : Hojagiri.
West Bengal: Gambhira, Kalikapatadi, Nanci, Alkap, Domni
Let us know of any mistakes or omissions in this article in the comments below. Also do let us know if this short compilation of important dances of India was helpful for you. If not, tell us how we can make it better by sharing your thoughts with us. Thank you.