Knowledge about the transport arteries of the country and hub for international trade is considered essential for any well- educated person. The following article covers all important ports & highways in India. Questions in General awareness section are often asked from the trivia mentioned in these general awareness study notes. We sincerely hope this study material compilation will be useful for quick revision for all.
Important Indian National Highways:
India's Road network is one of the largest in the world with 48.65 lakh km spread.
Also, road transport system is most developed in our country in comparison to other means of transport (that explains our big oil bill).
Roads in India are classified on the basis of maintenance and construction into – National highways, expressways, State Highways, Border Roads, major district roads, Village roads.
Some important national highways are listed below:
| | |
| --- | --- |
| National Highway |  Where-to-where |
| NH 1 | New Delhi-Ambala- Jalandhar -Amritsar. |
| NH 2 | Delhi -Mathua -Agra-Kanpur –Allahabad –Varanadi -Kolkata. |
| NH 3 | Agra – Gwalior – Nasik- Mumbai |
| NH 4 | Thand and Chennai via Pune and Belgaun. |
| NH 5 | Kolkata – Chennai |
| NH 6 | Kolkata -Dhule |
| NH 7 ( Longest in India) | Varanasi – Kanyakumari |
| NH 8 | Delhi – Mumbai (via Jaipur, Vadodara and Ahmadabad) |
| NH 9 | Mumbai – Vijaywada |
| NH10 | Delhi – Fazika |
The National Highway Authority of India(NHAI), constituted under the National Highway Authority of India Act 1988.
It is mandated to implement the National Highways Development project (NHDP) in a phased manner. NHDP involves upgrading and four/six-laning of national highways across the country.
<<Know more about Geography. Click here for geography study material and notes>>
 Major Sea Ports in India:
There are various seaports in India engaged in a variety of economic activity operating under service sector. Indian Ports are classified either as Major Ports or as Non-Major Ports. India has 12 major ports and about 200 non-major ports across the country.
Major Ports are mentioned under the Union List of subjects while Non Major Ports are mentioned under the Concurrent List of the Indian Constitution.
Therefore, Major Ports fall under the administrative control of Central government, while the Non-major ports fall under governance of their respective Maritime State Governments.
Major Sea Ports have been defined by the Indian Ports Act, 1908 – "any port which the Central Government may, by notification in the Official Gazette declare, or may under any law for the time being in force have declared, to be a major port".
Also, India has 200 Non Major ports, handling about 42% of sea-borne traffic overall.
India has in total 12 major ports, handling about 58% of shipments spread out in all nine coastal states. Six ports are located each on eastern and western coastline. These are Kolkata (including Dock Complex at Haldia), Visakhapatnam, Chennai, Tuticorin, Ennore on Eastern coastline. And Cochin, New Mangalore, Mormugao, Nhava Sheva /Jawaharlal Nehru Port Trust (JNPT), Mumbai, Kandla on Western coastline.
Following are the major Ports in India with their special characteristic feature:

| Ports on Western Coast | Ports on Eastern Coast |
| --- | --- |
| 1. Kandla (formed after Karachi given to Pakistan, child of partition) | 1. Kolkata-Haldia (riverine port, Indian coast guard base) |
| 2. Mumbai (India's busiest and biggest) | 2. Paradip (exports raw iron to Japan) |
| 3. Jawahar Lal Nehru/ Nhava Sheva (largest container port) | 3. Vishakhapatnam (oldest shipyard & natural harbour) |
| 4. Marmugao (natural harbour) | 4. Chennai (oldest and artificial harbour) |
| 5. Mangalore/Panambur (Kudremukh iron-ore exports) | 5. Ennore (most modern-in private hands) |
| 6. Cochin (Natural Harbour) | 6. Tuticorin (southernmost & artificial deep sea harbour) |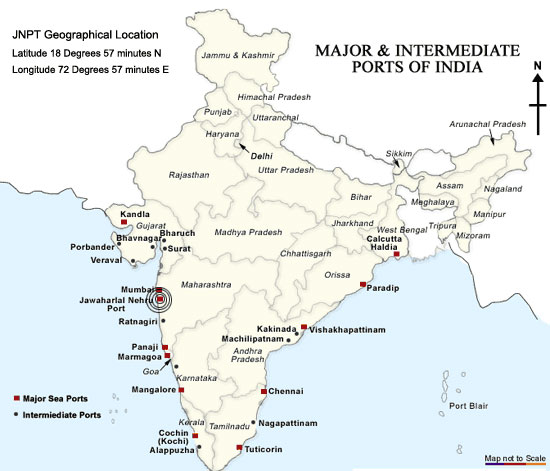 Questions are often framed on these important ports & highways because of their generalist content. We suggest every aspirant who is appearing for any competitive exam , or will be be doing so in future must remember atleast this much about ports and highways in India. You can bookmark this page for future reference and quick revision. We will be updating new information on this page as and when the government and economy progresses.