The IRNSS is in news every six months or so from past year. This topic will be useful in various exams, therefore the following information given in Questions-answer format will give all the relevant information which you may require for solving questions regarding this subject.
What is Indian Regional Navigation Satellite System (IRNSS)?
IRNSS is a GPS-like regional satellite-based navigation system being developed by India. But unlike the navigation systems operated by the US-Global Positioning System (GPS), or by the Russia- GLONASS, or by the EU-Galileo or by China- Beidou Navigation Satellite System (BDS), all of which have global coverage, our IRNSS will focus on the region that is, up to 1,500 km beyond India's boundaries. The region covered by the IRNSS will lie between longitude 40° E and 140° E, and latitudes ± 40°. The project is going to cost around Rs 1,420 crore.
How many satellites will be part of it?
IRNSS is planned as a constellation of seven satellites.
Three of which will be placed in a geostationary orbit located at 34° E, 83° E and 131.5° E.
These three geostationary satellites will appear fixed in the sky.

The other four satellites will be placed in geosynchronous orbit at an inclination angle of 29°, two in each with the equator crossing at 55° E and 111° E.

These four geosynchronous satellites will appear to move in the figure of '8' when observed from the ground.
   3 satellites

These are placed over the equator
In the geostationary orbit.
They match the Earth's rotation speed, hence remain at a fixedposition in the sky, when seen from the ground.

  4 satellites

These will be working in pairs situated in two inclined geosynchronous orbits.
When observed from the ground, these satellites appear to move in the figures of '8' during the course of the day.
So far 4 out of the 7 satellites have been launched.
IRNSS-A
IRNSS-B
IRNSS-C
IRNSS-1D
When
July 2013
April 2014
October 2014
March 2015
Where
Satish Dawan Space Centre in Sriharikota, Andhra Pradesh
Using PSLV
C22
C24
C26
 PSLV-C27
Work will begin to augment the IRNSS system with four additional satellites after the system becomes operational. That will bring the IRNSS to a 11 satellites system — which will still be small compared to the Chinese BDS, that will consist of 35 satellites.
What will be ground infrastructure for IRNSS?
A complete 20 stations for generation and transmission of navigation parameters, satellite control and monitoring, typically at airports, alongside Indian GPS Aided Geo Augmented Navigation (GAGAN) ground elements. IRNSS will also have two Master Control Stations, likely to be co-situated with GAGAN Indian Expert Control Centres.
When will IRNSS become operational?
Basic navigational services inside limited areas can be given with the four satellites in orbit now. At this time, ISRO will employ the system to check its accuracy. All seven satellites are scheduled to be set in orbit by early subsequent  year, and IRNSS is scheduled get fully operational by mid-2016.
How accurate will the coverage be?
IRNSS will provide positional accuracies similar to the GPS: 10 m over the Indian landmass, 20 m over the Indian Ocean. As is the case with the GPS and the US military, IRNSS will be providing a more accurate restricted service for the Indian armed forces and any other special authorised users. Also, the standard GPS receivers (in your smartphones and tablets) will not work with the IRNSS. You'll require a special receiver equipment to use the navigation data from IRNSS.
What are the applications of IRNSS?
The IRNSS will have terrestrial, aerial and marine navigation, disaster management, vehicle tracking and fleet management, integration with mobile phones, mapping and geodetic data capture.
Also, terrestrial navigation aid for hikers; visual and voice navigation for drivers.
But the crucial use will be for Indian armed forces, who can rely on assured positional data during hostilities.
Most modern weapon systems like guided missiles and bombs use navigation systems for targeting.
An indigenous system like the IRNSS will ensure reliable advancement and execution of such capabilities.
Why is IRNSS so critical to the military?
IRNSS is a strategic requirement for the modern war-fighting. This is because, the access to any foreign government-controlled navigation satellite systems such as the American GPS or EU Galileo is never guaranteed during hostile times. This has previously been experienced by India when we relied on the GPS during the Kargil war. Thererfore, it is advisable and critical to have India's own system in the likely area of our military operations.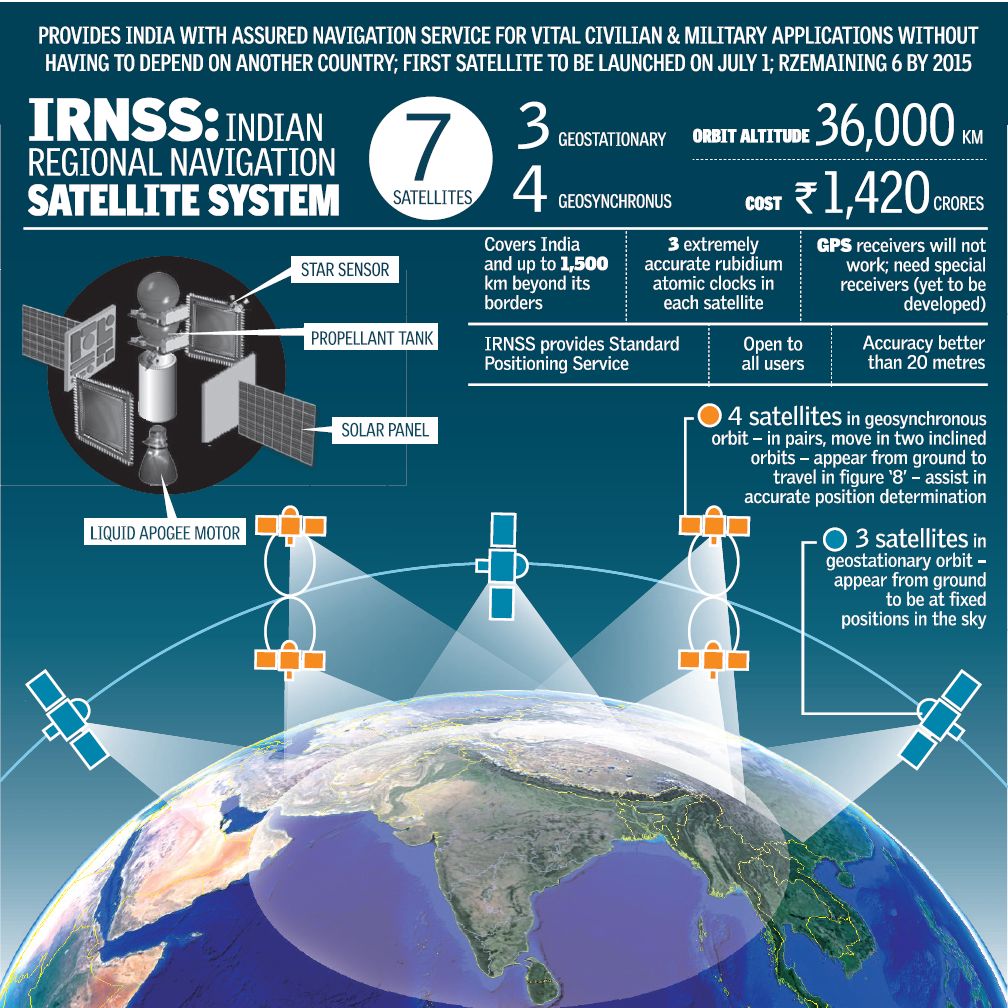 What is the scientific principle driving IRNSS?
IRNSS satellites use a couple of microwave regularity bands: L5 and S.
These microwaves take a trip at speed of light.
The receiver device will calculate the delay between the transmission of microwave and its own reception to obtain the coordinates on earth.
This calculation of time duration is performed by help of atomic clocks.
For above microwave-calculation, navigation satellites need to periodically transmit their precise position in the orbit with exact moment.
This precise time is derived from rubidium atomic clocks which each IRNSS satellite is equipped with.
The GAGAN system
Global Positioning System (GPS) Aided Geo Augmented Navigation (GAGAN) System is developed for civil aviation purposes. It is a joint effort by the ISRO and the Airports Authority Of India (AAI). It's primary use is to help the Air Traffic Control and pilots fly and land aircrafts in bad weather.
CONCERN: As the name suggests GAGAN is "GPS aided …" which means it is not a separate independent navigation system. This will depend on GPS (US-controlled navigation system). So we are in need of IRNSS for long term solution.