The National Institution for Transforming India (NITI) Aayog's comprehensive Health Index report titled "Healthy States, Progressive India" is the first attempt to establish an annual systematic tool to gauge and understand the heterogeneity and complexity of the nation's performance in Health.
The report has been developed by NITI Aayog, with technical assistance from the World Bank, and in consultation with the Union Ministry of Health and Family Welfare (MoHFW).
It ranks all states and Union territories based on their year-on-year incremental modification and overall performance in health.

All States and UTs are graded in 3 classes to make sure comparison among similar entities.

They're consequently ranked in three categories namely, Larger States, Smaller States, and Union Territories (UTs).

Health Index has been developed as a tool to leverage co-operative and competitive federalism to accelerate the pace of achieving health outcomes.
The Health Index would also serve as an instrument for "nudging" States & Union Territories (UTs) and the Central Ministries to a much greater focus on outcome-based measurement of annual performance.
The Health Index is a weighted composite Index, which for the larger States, is based on indicators in three domains: (a)

Health Outcomes (70%)

; (b)

Governance and Information (12%)

; and (c)

Key Inputs and Processes (18%)

, with each domain assigned a weight based on its importance.
Larger States:
In terms of all performance, Kerala topped the list among the Larger States, whereas Punjab and Tamil Nadu have been graded second and third.
According to the report, in terms of overall performance, Kerala has topped with a score of eighty points on the Health index, whereas Uttar Pradesh has performed the worst with 33.69 points. This score of UP is lowest in larger, smaller States and all Union Territories
The report indicates that Jharkhand, Jammu and Kashmir and Uttar Pradesh showed the improvement in indicators like neonatal mortality Rate, Under-five mortality rate, institutional deliveries, full protection coverage, and other people Living with HIV on Anti-Retroviral therapy.
Jharkhand is at no. fourteen on health Index with 45.33 points. The special factor is that within the recent years, the state has improved its performance quite swiftly. Jharkhand has improved by 6.87 points over the last year, which is the highest among other states. Rajasthan, Bihar and Odisha are the worst performing states in this index.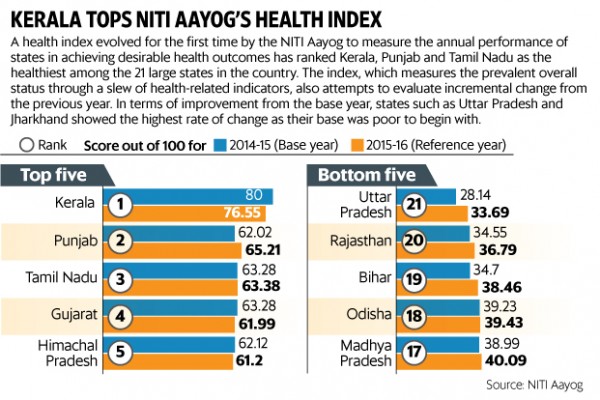 Smaller States:
Among smaller states, Mizoram graded 1st on the basis of overall performance whereas Manipur ranked 2nd.
In terms of annual incremental performance, Manipur was the highest ranked as Manipur registered most incremental progress on indicators like PLHIV on ART, grading quality parameters of Community Health Centres, first-trimester antenatal care registration, the average occupancy of key State-level officers and smart reporting on the Integrated disease surveillance Programme while it was followed by goa.
Union Territories:
Lakshadweep showed the highest annual progressive performance among UT's as it registered the best improvement in indicators like institutional deliveries, transfer of National Health Mission funds from State Treasury to implementation agency and TB treatment success rate.
Delhi was graded third among UTs whereas Chandigarh ranked second.
With the annual publication of the Index and its availability on the public domain, it is presumed to keep every stakeholder alert to the achievement of Sustainable Development Goals (SDGs) Goal number 3 – Ensure healthy lives and promote well-being for all at all ages.