The Union Law Minister Ravi Shankar Prasad has launched a scheme, Tele-law service from Bihar.
Tele-Law is aimed towards facilitating delivery of legal recommendation through a skilled panel of lawyers – stationed at the State Legal Services Authorities(SLSA).
By this project lawyers and clients could connect through video conferencing means at Common Service Centre. Additionally, District legal service authorities, law school clinics, voluntary service suppliers and Non-government organizations performing on legal aid and authorisation can also be connected through CSC's anywhere to strengthen access to justice for the marginalized communities.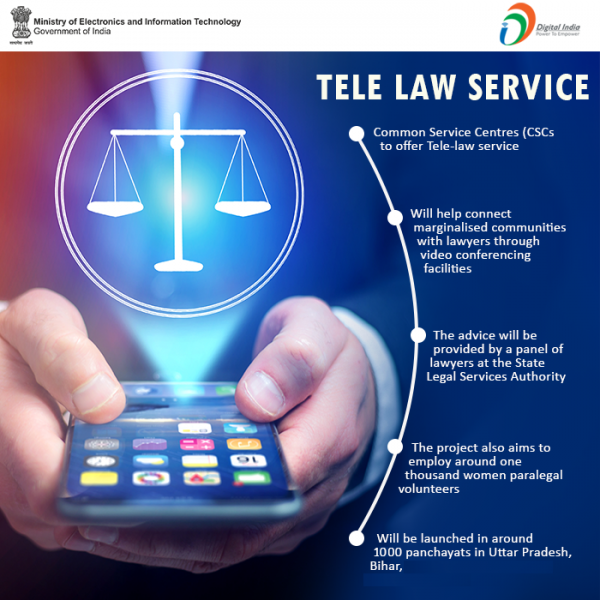 The project would be launched in 1800 panchayats in Uttar Pradesh, Bihar, Northeastern states and Jammu and Kashmir.
A trained Para Legal Volunteer is provided during a CSC for 10 days in a month under the scheme. This scheme comes to Justice the Project for Marginalised Persons which is being enforced by Department of Justice and United Nation Development Programme.
The scheme would help poor people in getting legal aid easily.
A powerful monitoring and evaluation system is also being arranged. To keep a check on the quality of legal advice being provided.
This scheme is a continuation to the Approach to Justice Project for Marginalised Persons, which is being executed by the Department of Law and Justice and the United Nation Development Programme since 2008.
The project launched across 1800 panchayats all over India. The details are: –
Uttar Pradesh- 500

Bihar- 500

Assam- 450

Srinagar- 89

Jammu- 61

Nagaland- 46

Meghalaya- 40

Tripura- 40

Arunachal Pradesh- 35

Manipur- 17

Mizoram- 12

Sikkim- 10
A person in need of legal aid can get a consultation at a CSC from empanelled lawyers of district and State legal service authority for Rs. 30,  but in case of BPL people, this amount would be returned back to their account.