Questions based on UNESCO World heritage sites in India can come up in every exam which tests General awareness of the candidates. Since these sites are just a handful, they give good return reward in form of marks. Hence, we suggest you go through these UNESCO sites every now and then to ensure those easy marks. You can bookmark this page(CTRL+D) and refer to it as and when your time permits. These trivia is helpful for study break time- utilization as well.
History of UNESCO Sites:
The General Conference of UNESCO in 1972 adopted a resolution for  'Convention concerning the protection of the World Cultural and Natural Heritage'.
Its main objective was to define the
World Heritage in both cultural and natural aspects and to enlist Sites and Monuments from the member countries which are of  interest and universal value, the protection of those is the concern of all mankind and to promote co-operation among all Nations and people to contribute for the protection of these universal treasures intact for future generations.
The List of recorded sites on the World Heritage is 981 which include both cultural and natural wonders. These include 759 cultural, 193 natural and 29 mixed properties in 137 state parties.
India being an active member State on the World Heritage forum since 1977 and has been working in close co-operation with other International agencies like ICOMOS (International Council on Monuments and Sites), IUCN (International Union for the Conservation of Nature and Natural Resources) and ICCROM (International Centre for the study of Preservation and Restoration of Cultural Property).
As of 2018, there are 37 UNESCO World Heritage Sites in India, which gives us the 6th largest number of World Heritage Sites across the Globe.
India now has 37 sites, including 29 cultural properties, 7 natural sites and 1 mixed site, notified as World Heritage Sites. 
The Khangchendzonga National Park (KNP) in Sikkim became India's first mixed World Heritage Site after fulfilling the nomination criteria under both natural and cultural heritages.
The names and year of induction in the heritage list are marked alongside below: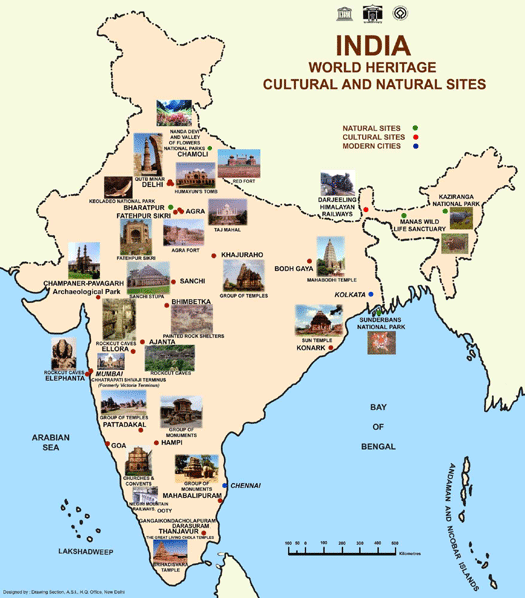 [Cultural] UNESCO World Heritage Sites in India:
Agra Fort (1983)
Ajanta Caves (1983)
Buddhist Monuments at Sanchi (1989)
Champaner-Pavagadh Archaeological Park (2004)
Chhatrapati Shivaji Terminus (formerly Victoria Terminus) (2004)
Churches and Convents of Goa (1986)
Elephanta Caves (1987)
Ellora Caves (1983)
Fatehpur Sikri (1986)
Great Living Chola Temples (1987)
Group of Monuments at Hampi (1986)
Group of Monuments at Mahabalipuram (1984)
Group of Monuments at Pattadakal (1987)
Hill Forts of Rajasthan (2013) – has 6 majestic forts in Chittorgarh; Kumbhalgarh; Sawai Madhopur; Jhalawar; Jaipur, and Jaisalmer.
Humayun's Tomb, Delhi (1993)
Khajuraho Group of Monuments (1986)
Mahabodhi Temple Complex at Bodh Gaya (2002)
Mountain Railways of India (1999)
Qutb Minar and its Monuments, Delhi (1993)
Rani-ki-Vav (the Queen's Stepwell) at Patan, Gujarat (2014)
Red Fort Complex (2007)
Rock Shelters of Bhimbetka (2003)
Sun Temple, Konârak (1984)
Taj Mahal (1983)
Jantar Mantar, Jaipur (2010)
Nalanda Mahavihara (Nalanda University) in Bihar (2016)
The Capitol Complex in Chandigarh (2016) – which includes the Legislative Assembly, Secretariat and High Court. It was designed by French architect Le Corbusier, in the 1950s when the city was constructed as a symbol of independent, modern India.
The Historic City of Ahmadabad in Ahmedabad, Gujarat (2017)

The Victorian Gothic and Art Deco Ensembles of Mumbai(2018)
[Natural] UNESCO World heritage Sites in India:
Great Himalayan National Park Conservation Area (2014)
Kaziranga National Park (1985)
Keoladeo National Park (1985)
Manas Wildlife Sanctuary (1985)
Nanda Devi and Valley of Flowers National Parks (1988)
Sundarbans National Park (1987)
Western Ghats (2012)
[Mixed] UNESCO World Heritage site: 
Kanchenzanga National Park (2016) – Has both natural and cultural heritage value.
It's a unique example of coexistence and exchange between different religious traditions and people. It combines religious and cultural practices of Buddhism as well as the ecological significance of the region. Therefore, it stands out as an outstanding example of traditional knowledge and environmental preservation.
It also has unique diversity of lowlands, steep valleys and snow-clad mountains, including the world's third highest peak, Mt. Khangchendzonga, besides it is home to a significant number of endemic, rare and threatened plant and animal species. 
P.S. These sites are important for history, geography and environment general knowledge.
The UNESCO World Heritage Sites in India are also a reminder of our rich cultural and natural heritage. These Indian heritage sites of UNESCO have the potential to attract a large number of tourist. Therefore, this recognition of UNESCO world heritage site is critical for the growth of the Tourism Industry in India.
<< Read our Polity Study material here >>
If you want us to make any additions to the article above, feel free to drop your comments in the section below. We would love to hear from our readers.