What is the need to focus on Micro and Small Businesses
According to NSSO survey of 2013, there are 5.77 crore small business units running in India, majority of them are individual proprietorships, which run small trading, manufacturing or services activities. According to the Union Budget 2015-16, 62% of these are owned by people belonging to Scheduled Caste, Scheduled Tribe or Other Backward Classes. The matter of concern here is that only 4% of such small business units get institutional finance. If these units are provided access to institutional finance, these micro units would turn into strong instrument of increasing employment and GDP growth for the economy.
What is Micro finance?
Micro Finance is an economic development tool to assist the poor so that they can work their way out of poverty. Microfinance covers a range of services, such as providing provision of credit, savings, insurance, money transfers, counseling services. The actors in the Micro Finance sector can qualify into 3 main groups:-
the SHG-Bank linkage model started by NABARD,
the Non Banking Finance companies (NBFC)
the other players such as Trusts, Societies
Employment generation is a big priority for government since 54 %per cent of the Indian population is under 25 years of age and about 12 million workers join the workforce annually.To boost entrepreneurship, Union Budget 2015 has announced a Rs 1,000 crore corpus for a new fund Self-Employment and Talent Utilisation (SETU) fund which would support all aspects of start-up businesses and self-employment activities, especially in technology-driven areas.
Why MUDRA Bank?
Micro Units Development Refinance Agency (MUDRA), has been envisioned as a bank to finance the setting up of small and micro-units (SME) and hence encourage entrepreneurship among the SC/STs and OBCs. This proposed bank is a part of government's Skill India programme and is focussed on job-creation.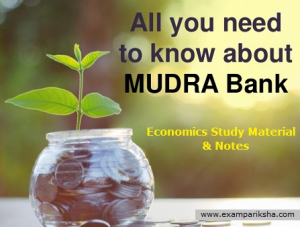 MUDRA bank has been structured as an apex refinancer to enable over 50 million unfunded entrepreneurs to access the systems of formal credit through credit institutions registered under it. These micro/small entrepreneurs not only earn their own livelihood but also provide jobs. These small business units need credit at a reasonable interest, rather than subsidies (the idea of inclusive growth has so far been associated with subsidies).
MUDRA Bank will fund micro business units which are more efficient than the modern corporates.  The following analysis will explain this:
According to the Economic Census of 2014, the gross fixed assets owned by the 5.77 crore small businesses is about Rs. 11.5 lakh crore.
But their value addition is Rs.6.26 lakh crore — this is almost 55 per cent of their gross fixed assets.
On contarary, the comparative figures for Indian corporates, is 34 per cent according to Reserve Bank of India data.
While the corporates pay interest at 9 to 14 %, micro units pay at least ten times more than them.
And despite high interest payments, micro units add 55 per cent more value on their assets than the corporates do.
The Economic Census 2014 also mentions that while the 57.7 million micro units provide employment to 128 million people, the banks fund only 4 % of their needs. The Small business units get just Rs. 46,000 crore out of their gross assets of ₹11.5 lakh crore from bank funding.
In comparison, the modern Indian corporates in the public as well as private sector have absorbed over Rs. 50 lakh crore through the FDI and FII investments and bank credit since the year 1991, but have added just 2.8 million jobs.
This explains how the national economy is being driven for past 21 years by the non-corporate sector rather than the corporate sector.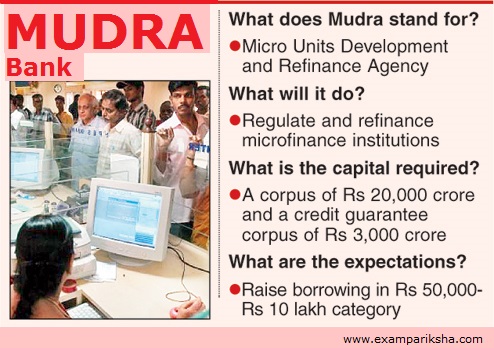 MUDRA Bank
The government will set up the Micro Units Development and Refinance Agency (MUDRA) Bank through a statutory enactment. It was announced in the Union Budget 2015-16.
Objectives of MUDRA Bank:
The MUDRA Bank will be responsible for regulating and refinancing all Micro-finance Institutions (MFI) which lend to micro and small business entities that are engaged in manufacturing, trading and services activities.
It would also partner with state level and regional level coordinators in order to provide finance to the Last- Mile-Financer of the small or micro business enterprises.
Functions of MUDRA Bank:
The MUDRA Bank will primarily perform the following functions in quest of its objectives –
It will lay down policy guidelines for the micro and small enterprise (SME) financing businesses.
Registration of Micro Finance Institutions (MFI) entities.
Regulation of the Micro Finance Institutions (MFI) entities
The MUDRA bank will provide accreditation  and ratings of the MFI entities
It will lay down the 'responsible financing practices' to ward off issues of indebtedness and also ensure proper 'client protection principles' and methods of recovery.
It will be responsible for development of standardised set of rules to govern last mile lending to the micro and small enterprises.
MUDRA bank will be promoting right technology solutions for the last mile lending.
It will also formulate and run a Credit Guarantee scheme to provide guarantees to the loans which are being extended to the Small and micro enterprises.
The MUDRA bank will create a good architecture for the Last Mile Credit Delivery to micro business units under the scheme of Pradhan Mantri Mudra Yojana.
Government Finance
A sum of Rs 20,000 crores would be allocated to the MUDRA Bank from the money that is available from shortfalls of Priority Sector Lending in order to create a Refinance Fund meant to provide refinance to the Last Mile Financers.
Another Rs 3,000 crore funding will be provided to the MUDRA Bank from the Union Budget 2015-16 to create a Credit Guarantee corpus for guaranteeing the loans being provided to the micro enterprises under Pradhan Mantri Mudra Yojana.
How MUDRA bank will be helpful?
The above mentioned measures will not only help in increasing the access of finance to the unbanked sections of economy but also bring down the cost of finance from the Last Mile Financers to the micro and small enterprises in the informal sector.
Mudra Bank will help the small enterprises access loans at a cheaper rate.
MUDRA bank will give prority to SC/ST enterprises to increase the confidence of young, educated or skilled workers so that they will be able to become first generation entrepreneurs.
MUDRA bank will also enable existing small businesses to expand their activities by ensuring credit to them at reasonable rates. These existing SMEs are known as 'missing middle' because they are not funded either by banks or by the microfinance institutions (MFI).
By floating MUDRA bank, the government has identified Non Banking Financial Companies (NBFCs) as a good means to reach out to existing small and micro entrepreneurs.
Equitas will now be able to get refinance at a reduced rate and it would be further passed on to the SMEs enabling them to expand their activities.
Therefore,  this new bank that was announced in the annual Budget 2015 could possibly boost loans and also cut borrowing costs for the cash-starved small businesses such as tailors, small shops, mechanics, phone booth operators and other micro businesses which account for around a fifth(5th) of the economy. This will work in tandem with the approach of government to bank the un-banked and fund the un-funded.