Questions regarding Fundamental duties feature as a fixture in all General Awareness papers, especially UPSC exams like SSC, IAS, civil services, etc. these are also a staple in all the state PSC conducted exams. Here we are providing a brief material for quick revision as well as reference for benefit of fellow aspirants. These points will serve well for the Essay papers also.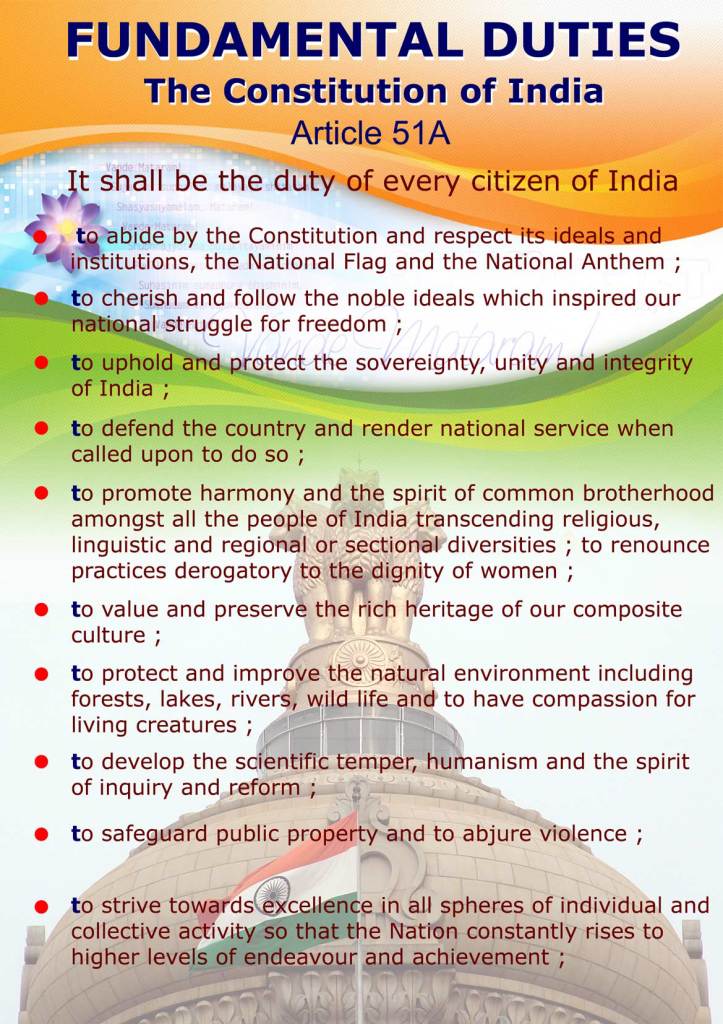 It is widely believed that Rights and Duties are two sides of a coin. There are no rights without duties, no duties without rights. In fact, rights are born in a world of Duties. A major difference between the fundamental rights and duties mentioned in the Indian constitution is that- while fundamental rights are justiciable, fundamental duties are non justiciable in nature – which means if a citizen does not performs his/her fundamental duties, they can still enjoy the fundamental rights enshrined the Indian constitution.
The original Constitution was enforced in 1950,but it did not mention Fundamental Duties of the citizens. It was hoped that citizens would perform their duties willingly.
But, 42nd Amendment to the Constitution added a new list  consisting of 10 duties in chapter IV under Article 51-A of the Constitution.
The Fundamental Duties were added to the constitution on the recommendations of the Swaran Singh Committee.There were ten fundamental duties at the time of incorporation but the eleventh was added by the 86th Amendment Act in 2002.
It is said about Fundamental Duties that – The "Fundamental Duties' come as moral obligations of all citizens of India for national integration, growth and development of society.
Though these duties are not themselves enforceable and their violation is also not punishable. But still, these fundamental duties can serve as a reference point for cases regarding enforcement of fundamental rights. Courts can consider refusing enforcement of a fundamental right in view of violation of fundamental duties. This in a way curtails emphasis from fundamental rights in the constitution.
Duties Enlisted under Article 51-A of PART IV are:
To abide by the Constitution and respect our National Flag and National Anthem.
To follow the noble ideals that inspired our national freedom movement.
To protect the unity and integrity of India.
To defend the country when the need arises.
To promote harmony and brotherhood among all sections of the people and to respect the dignity of women.
To preserve our rich heritage and composite culture.
To protect and improve our natural environment including forests, rivers, lakes and wildlife.
To develop scientific outlook and humanism.
To protect public property and not to use violence.
To strive for excellence in all spheres of individual and collective activity
New Addition:  Under RTE –

Art 51A Amendment Act 86th 2002

. "a parent or guardian to provide opportunities for education of his child or as the case may be ward between the age of six and fourteen years.
Criticism:
Fundamental Duties for citizens are in nature of a code of conduct.A few of these duties are even vague and unrealistic.
The non-justiciable character of these duties make them rather redundant.
Their ambiguous language is another hindrance in their being obeyed e.g. a citizen does not know how to maintain sovereignty, integrity and glorious heritage of the country.
Objectives mentioned under these are too broad for targated implementation.
Counter-argument:
But on the flip side, even though there is a lot of truth in the argument of the critics,yet it would not be proper to call these duties as only pious declarations. As mentioned in the begining – Rights and Duties are two sides of the same coin. In the interest of the well being and progress of the society, Rights and Duties must be adhered to equally by all to achieve an egalitarian nation.