National Electronic Funds Transfer (NEFT) is a country-wide payment system that facilitates one-to-one funds transfer. This Scheme allows individuals, firms and corporates to electronically transfer funds from any branch of bank to any individual, firm or corporate who have an account with any different bank branch in the country which also participates in the Scheme.
For being able to undertake the NEFT funds transfer, a bank branch has to be NEFT- enabled. The Reserve Bank of India provides the list of such bank branches.
Individuals, firms or corporates that maintain accounts with an enabled bank branch can transfer funds using National Electronic Funds Transfer (NEFT). This scheme also allows walk-in customers of bank branch, who do not have a bank account to deposit cash at the NEFT-enabled branches with a restricted amount of a maximum Rs.50,000/- per transaction. Ofcourse, such customers are required to furnish their full details including complete address, telephone number, etc.  Therefore, NEFT, facilitates originators/remitters to transfer funds through transactions even without having a bank account.
Though National Electronic Funds Transfer (NEFT) does not allow foreign fund transfers, however, this system facilitates one-way cross-border transfer of funds from India to Nepal. This arrangement is known as the Indo-Nepal Remittance Facility Scheme. An originator or  remitter can transfer funds from a NEFT-enabled branches in to Nepal, that too irrespective of whether the receipient or beneficiary in Nepal has an account with a bank branch in Nepal or not. The fund transfer to the beneficiary in Nepal would be in Nepalese Rupees.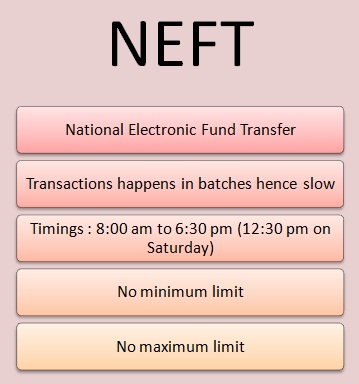 Under the NEFT payment system, there is no upper or lower limit, i.e., neither minimum nor maximum limit on the amount of funds that are allowed to be transferred using National Electronic Funds Transfer (NEFT).
Regardless of this, the maximum amount per transaction has been limited to Rs.50,000/- for cash-based remittances within India (and also for remittances to Nepal under the Indo-Nepal Remittance Facility Scheme).
The NEFT system does not applies any geographical restriction within the nation. Since NEFT uses the core banking system in banks, it does not differentiates between geographical area. Therefore, the final settlement of funds between the originating and the receiving banks takes places centrally at Mumbai. And the bank branches participating in NEFT can hence be located anywhere across the country.
NEFT Timings: 
At present, NEFT settlement system operates in hourly batches. Hence, there are 12 settlements starting from 8 am and extending to 7 pm on week days (Monday through Friday) and 6 settlements starting from 8 am to 1 pm on Saturdays.
The National Electronic Funds Transfer (NEFT) system can also be used for funds transfer from or to NRE and NRO accounts in the country. This is although subject to adherence to the provisions of the (FEMA) Foreign Exchange Management Act, 2000 and the Wire Transfer Guidelines.
Other than personal funds transfer, the NEFT system can be also used for a selection of transactions. These include the payment of credit card dues to the issuing bank, payment of loan EMI, etc.
Banking exam aspirants must take note that National Electronic Funds Transfer (NEFT) payment and settlement system in India is a credit-push system. Credit-push system means transactions can be originated by the payer or remitter or sender only to transfer or remit or pay funds to a beneficiary. This system does not works other way round by demanding fund transfer from beneficiary's side.
Advantages of National Electronic Funds Transfer (NEFT) over the other modes of funds transfer:
The remitter or sender does not need to send the physical cheque or Demand Draft to the beneficiary. Hence, it reduces time and effort while making process efficient.
The beneficiary is not required to visit the bank for depositing these paper instruments( cheque or DD).
The beneficiary need not be cautious and apprehensive of any loss or theft of the physical instruments or any likelihood of fraudulent en-cashment of the paper instrument.
This electronic transfer is Cost effective.
Under this system, Credit confirmation of the remittances is swiftly received by SMS or email.
The remitter or sender can initiate the remittances directly from his/her location (home/ place of work , etc.) by using internet banking also.
The National Electronic Funds Transfer (NEFT) system is a near real time funds transfer to the beneficiary account in a secure manner.