We are providing here quick revision notes on Regional Rural Banks (RRB) – under our Banking Study Material & Notes section for all banking recruitment aspirants.
Regional rural banks are basically, banking organisation for local level operations across the States in India. They are created with a mandate to provide essential or basic banking and financial services to the rural areas. While Regional Rural Banks are meant for rural areas, they can operate in urban areas also.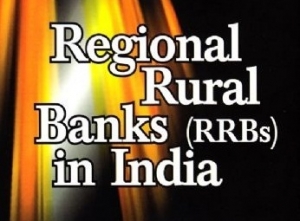 The main purpose behind setting up the RRBs is to mobilise financial resources from the rural areas and grant loans to needy and marginal farmers and artisans. They also facilitate the movement of government funds to MGNREGA workers, or distribution of pension.
History of RRBs:
The Regional Rural Banks were setup on the basis of Narsimham Committee report (1975), by the legilations of the Regional Rural Banks Act of 1976. Thereafter, the first Regional Rural Bank was setup in 1975 itself by the name Prathama Grameen Bank.
Ownership of RRBs:
The equity of RRBs is held by the stakeholders in fixed proportions of 50:15:35 distributed among the following –
Central Government has 50% share.
State Government has 15% share.
The Sponsor Bank has 35% share.
These ratios are important to remember to be able to face the questions related to regional rural bank recruitment.
<<<< Read about Economics Study Material here >>>>
Objectives of Regional Rural Banks (RRB):
To bridge the credit gap in rural regions in India.
To check rural credit outflow to urban areas.
To reduce regional imbalances in terms of availability of financial facilities.
To increase rural employment generation.
Characterstic features of RRBs:
RRBs have knowledge of rural constraints and problems like a cooperative because it operates in familiar rural environment.
RRBs show professionalism in mobilising financial resources like a commercial bank.
RRBs are supposed to work in its prescribed local limits.
It provides banking facilities as well as credit to small and marginal farmers, small entrepreneurs, labourers, artisans in rural areas.
RRBs have to fullfil the priority sector lending norms as applicable on other commercial banks.
Priority Sector Lending : RBI mandates that all domestic Banks must ensure that 40% of their loans and advances are given to the priority sector. Priority sector comprises the areas of economy that require banking assistance but gets neglected by banks due to various reasons.
The Reserve Bank of India categorizes agriculture, retail trade, education, housing and small business as Priority sector.
Presently the total number of RRBs in India is 57.
<<<< Read about Non Performing Assets in short Here >>>>
RRBs as a whole are a tools for financial inclusion in rural areas. They act as financial intermediaries numerous beneficiaries in rural and semi-urban areas.
We hope this quick reference compilation will help the aspirants to face the recruitment exams of Regional Rural Banks as well as recruitment exams of other banks also. You can bookmark this page for future reference and revision. You can also explore our study material section for revision and gathering knowledge about relevent topics for various exams. If you want us to add any more content in this page or article then please mention that in the comments below. We keep updating the articles as well as the study material, so stay tuned for more.