The Conquest of Punjab: Expansion of British Power in Punjab
Guru Gobind Singh was the tenth as well as the last Guru of Sikhs who had transformed the religious sect of Sikhism into a military brotherhood.
After the invasion of Ahmed Shah Abdali and Nadir Shah, the Sikhs consolidated their military strength in midst of confusion and disorder after invasion. This led to emergence of Sikh power aided by strong military.
Maharaja Ranjit Singh (1792-1839):
He is considered to be greatest Indian ruler in his time who founded Sikh rule in Punjab. He occupied Lahore in 1799 to make Lahore his capital. Thereafter he conquered Amritsar, Ludhiana, Kangra, Multan, Kashmir, Attock, Hazara, Bannu, Peshawar and Derajat. After laying strong foundation of Sikh rule in large parts around Punjab, he died in 1839 which led to struggle for succession.
After the death of Ranjit Singh there was anarchy in Punjab. The Sikh Kingdom saw begining of process of disintegration when Kharak Singh, the eldest son and successor of Ranjit Singh and his only son Naunihal Singh (grandson of Ranjit Singh) were killed in 1840. Thereafter Sher Singh, another son of Ranjit Singh was successful with help of the Sikh army in proclaiming himself the Maharaja in January 1841 but he too was assassinated in 1843.
In September 1843 Duleep Singh, youngest son of Maharaja Ranjit Singh was proclaimed the Maharaja of Sikh Kingdom with Rani Jindan as regent and Hira Singh Dogra as Wazir (who was murdered later).
The First Anglo-Sikh War (1845-1846)
Since the British were closely watching the developments in Punjab and had their eyes on the fertile plains across the other side of Sutlej, they began engaging Sikh troops. With the appointment Major Broad as Company's Agent in 1843 at Ludhiana for Sikhs affairs then worsened Anglo-Sikh relations.
The British moves and preparations alarmed the Sikh troops which crossed the Sutlej in December, 1845 and took offensive position against the English troops. Henceforth, battles were fought at Mudki, Ferozeshah and Aliwal. To settle the issue the final battle of Sobraon (10 Feb, 1848) proved decisive in first Anglo Sikh War.
After victory at Sobraon, the English army occupied Lahore and dictated peace terms. Therefore, the First Anglo-Sikh Battle ended by the Treaty of Lahore (1846). In the treaty of Lahore, Dalip Singh, was recognized as Raja and the Jullandur Doab was added to the British territory, it also limited the Sikh army to a specified number and most importantly a British Resident (Sir Henry Lawrence) was appointed to assist the Sikh Council of Regency. The British imposed a heavy war indemnity amounting one and half crores rupees on the Lahore durbar. Out of this, Half a crore was paid, and in lieu of the balance war indemnity Lahore durbar offered to cede territory of Kashmir.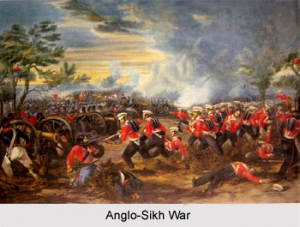 The Second Anglo-Sikh War (1848-1849):
After a few months  after the treaty of Lahore, Rani Jindan and Lai Singh realised the true intentions of the English Company. The major causes for Second Anglo Sikh War were :
The Sikh Sardars were discontent with the British control over Punjab,
The Sikh army wanted to avenge their humiliation in the first war
The treatment of Rani Jindan by the British when she was removed from Lahore to Shekhupura on charges of conspiracy against the British Resident.
The immediate cause for the English Company's invasion of the Punjab was the revolt of Mulraj, the Governor of Multan.
In the second Anglo Sikh War a large army under command of Lord Gough fought an indecisive battle at Ramnagar in November 1848. Next, at battle of Chilianwala in January, 1849 the Sikh soldiers won with glory. The final and decisive battle at Gujrat near Chenab was won by the English in 1849. This war resulted in the annexation of Punjab.
In March 1849, Lord Dalhousie annexed Punjab under the Treaty of Lahore and pensioned off Dalip Singh to England along with his mother Rani Jindan.
Sir John Lawrence became the first Chief Commissioner of Punjab to look after administration of Punjab. Therefore, Punjab became a British province. Although Patiala and some other small states retained their rulers after recognizing sovereignty of the British. The second Anglo Sikh War ended with British conquest of Punjab.
<< Read about Ancient Indian Scientist here in brief>>
<< Click here to read about Geomorphic processes in Physical Geography Section>>
<< Read the list of International organisations and their heads here>>
☑ Study Plans & Online Test Series for Civil Services Exams
| | | |
| --- | --- | --- |
| UPSC Prelims Exam : | | |
| UPSC Mains Exam : | | |
Free Study Material & Online Tests for Various Subjects
| | | |
| --- | --- | --- |
| Current Affairs : | | |
| General Awareness : | | |
| Reasoning :  | | |
| English : | | |
| History : | | |
| Geography : | | |
| Political Science : | | |
| Economics : | | |
| Environment GK : | | |
| Science & Tech. : | | Coming Soon |
| State Exam GK : | Coming Soon | |
We'll Teach You FREE, How You Can...
» Crack Exams Like UPSC, RPSC, NET-JRF in no time!




» We'll send you all our Daily Current Affairs, Latest Study Material Free of Cost!




» You'll also receive FREE eBooks & Questions Papers!
Sign Up Now!
Register to get our Free Study Material by email.