The SARFAESI Act has always been in news ever since its inception, therefore, it becomes important for every aware and educated individual to have a basic knowledge and understanding to this act as a part of basic financial awareness. Also, there are always questions regarding this in some or the other examination especially the bank exams. Hence, we bring here the Banking Study Material & Notes for quick revision of these basic concepts pertaining to the banking sector.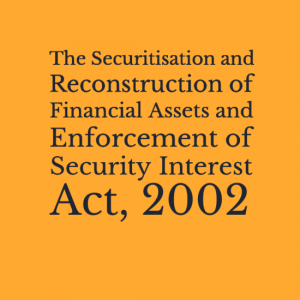 Reason for bringing in SARFAESI Act: Banks and other financial institutions (FIs) faced various problems in recovering the defaulted loans and advances due to the usual delay by our courts in disposal of recovery proceedings. Therefore, the Government enacted the Recovery of Debts due to Banks & Financial Institutions (RDBF) Act in 1993 and the SARFAESI Act in 2002 to expedite recovery of these non-performing assets (NPAs) of the banks and Financial Institutions.
The Securitisation and Reconstruction of Financial Assets and Enforcement of Security Interest or SARFAESI Act, as it is popularly referred to as, is meant to empower banks and other financial institutions, to attach the secured assets ( that serves as security) of a loan defaulter. These attached assets can then be managed by the bank or put up for sale or auction, without requiring any court intervention. (Agricultural land is beyond SARFAESI Act).
It should be noted here that only secured assets can be attached under the provisions of this act, Un-secured assets cannot be tempered by banks without going to the courts for repayment of the loan. Unsecured assets are those assets which do not serve as security to the creditor or bank.
The Act gives vast powers to the Banks and Financial Institutions dealing with Non-Performing Assets.
They can issue a notice of default to borrowers, asking them to clear their liabilities and dues within 60 days from the issue of notice.
If the borrower does not comply and fails to repay the loan, the bank/FI can resort to either of the following three courses of action:
They can take possession of the security
They can take over the management/administration of the security asset
They can put it up for lease, sale, or appoint a person to manage the asset concerned.
This act also provides for sale of these financial assets by banks to Asset Reconstruction Companies, also known as ARCs. The Act has provision for their establishment, to be regulated by the RBI, with a mandate to securitize the acquired financial assets.
To qualify for action under the SARFAESI Act, the defaulted loan or advance should follow these pre-requisites:
The banks or FIs should have thier outstanding dues above 1 lakh, which should also be more than 20 percent of the principal loan amount.
The debt in question should have secured assets.
The debt has to classified as an Non-Performing Asset by the banks.
The security for the Loan/advance should not be an Agricultural land.
The borrowers can remit their any time before the conclusion of the sale of their security and acquire their security back. If any unauthorized action is taken by the bank against the borrowers security, he/she can move the Debt Recovery Tribunal (DRT) demanding compensation.
Debt Recovery Tribunal (DRT): They have been vested with powers to entertain appeals regarding illegal use of powers given to the banks.
Asset Reconstruction Companies (ARCs): these companies are regulated by the RBI, they buy these bad loans or NPA from the Banks and Financial Institutions to extract profit from managing these assets. Hence, the name asset reconstruction company.
<<< You can read about Banking Abbreviations also >>>
We hope this concise explanation of essential details of the SARFAESI Act has helped you in understanding this important topic. The questions based on this act appear in various banking recruitment exams, especially in the RBI and SBI interviews and group discussions as well. This banking study material and notes series is targated to help you manage the questions in these exams in a confident manner. If you want us to add any other detail to this article, you can post in the comments section below.
<<<< Read about DBMS normalisation for Bank exams >>>>
☑ Study Plans & Online Test Series for Civil Services Exams
| | | |
| --- | --- | --- |
| UPSC Prelims Exam : | | |
| UPSC Mains Exam : | | |
Free Study Material & Online Tests for Various Subjects
| | | |
| --- | --- | --- |
| Current Affairs : | | |
| General Awareness : | | |
| Reasoning :  | | |
| English : | | |
| History : | | |
| Geography : | | |
| Political Science : | | |
| Economics : | | |
| Environment GK : | | |
| Science & Tech. : | | Coming Soon |
| State Exam GK : | Coming Soon | |
We'll Teach You FREE, How You Can...
» Crack Exams Like UPSC, RPSC, NET-JRF in no time!




» We'll send you all our Daily Current Affairs, Latest Study Material Free of Cost!




» You'll also receive FREE eBooks & Questions Papers!
Sign Up Now!
Register to get our Free Study Material by email.